NCRA got off on a flying start to 2019 with a win at Quintin Head in the Intermediate Women's Eights category.
This was hotly contested with 14 other competitors, resulting in only 1 second to split between NCRA and second placed Maidstone Invicta. The event is a typical winter-time processional race against the clock, and runs on the ebb tide from Chiswick Bridge to the "University Post" at Harrods Depository. The crew were delighted with the days' performance on what was a typically wet, cold and windy day on the River Thames. It was Coxswain Rosie Stokes' first time coxing on the Tideway. Having spent the previous night studying the Course and all the key markers, she certainly put her study to good use, steering a perfect course to pick up the best of the ebb stream, an essential element in assisting the crew to achieve their first-place finish.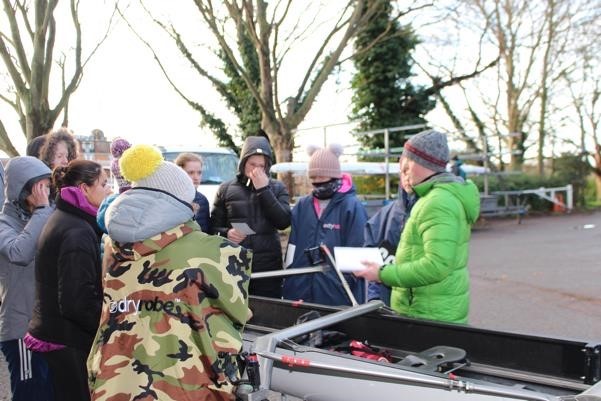 Coach Declan briefs the crew before the race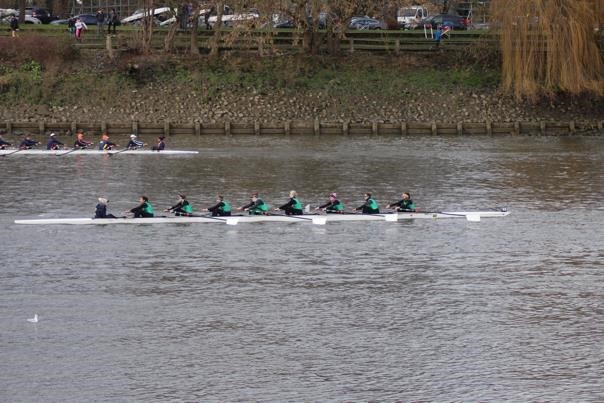 Setting off on the ebb-tide approaching Barnes Bridge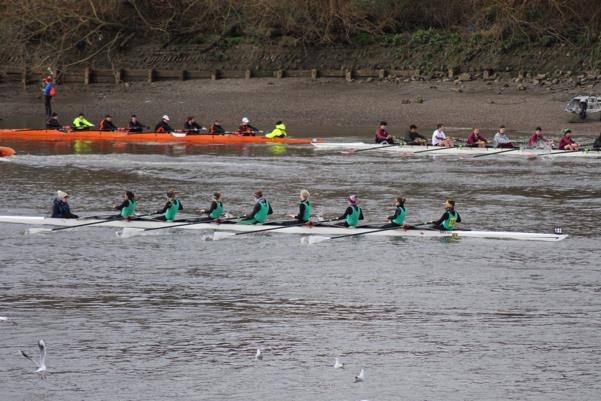 NCRA ride the river washes as they pass school crews returning after their racing 
The squad will now travel down next weekend to Wallingford to train with Oxford Brookes University before racing at Nottingham's local "Head of the Trent" on Saturday 24th February.
Meanwhile the junior boys and junior women will travel to Peterborough to compete at the Head of the Nene next weekend.
The Start List of crews in the Women's Intermediate category
University of Bristol (Cox)
Putney Town RC (Bevan)
Nottinghamshire County RA
Mortlake Anglian & Alpha RC (Gowan)
King's College London BC 'Pickle'
Barnes Bridge Ladies RC (Richardson)
Marlow RC
Maidstone Invicta RC (O'Brien)
Thames RC (Gulley)
Vesta RC (Baulkwill)
Nottingham RC
Sons of the Thames RC
University College London BC (Riggall)
Barnes Bridge Ladies RC (Bakkeren)
Kingston RC