NCRA Soar at Leicester Regatta
Four wins and two finals brought a very good day of racing on Sunday 28th April, for the seven NCRA crews entered at Leicester on the 700-metre River Soar course. This very personal one-on–one racing format prepares you for the skills needed to row your race despite bankside distractions. With spectators dangling their feet only maybe a metre from your left-hand blade tip if on the Club side station, and a no-nonsense bank with bridge abutments if racing on the far side station, it is vital to be cool, calm and collected so as to steer well. No crew could ever say they never heard the shouts of encouragement from supporters and coaches, nor steering warnings from Umpires.
Three winning crews raced in Senior categories, giving us exciting racing experiences where prediction of form was impossible. The free start is eyeball to eyeball (don't be tempted to look across!) and getting the boat away cleanly is essential. With advantage off the start never assured, holding your nerve under pressure is vital to work through into the lead.
Seen from the Finish, the NCRA green could be picked out with the naked eye even for crews on the Start.
There were four Winners, all by convincing margins:
Men's Single Scull – Finn Larkin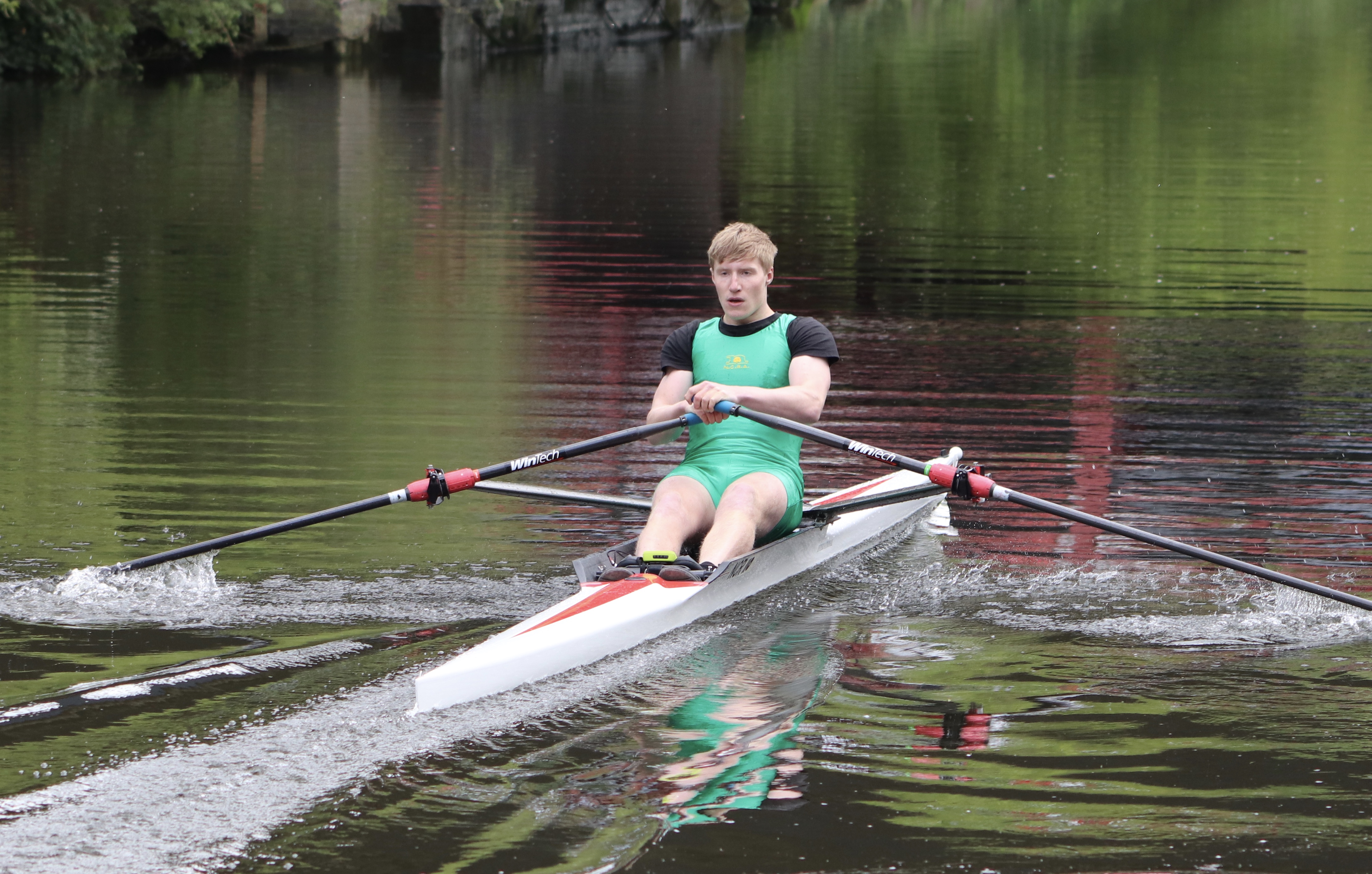 Women's Double Scull – Mia O'Donnell and Olivia Bates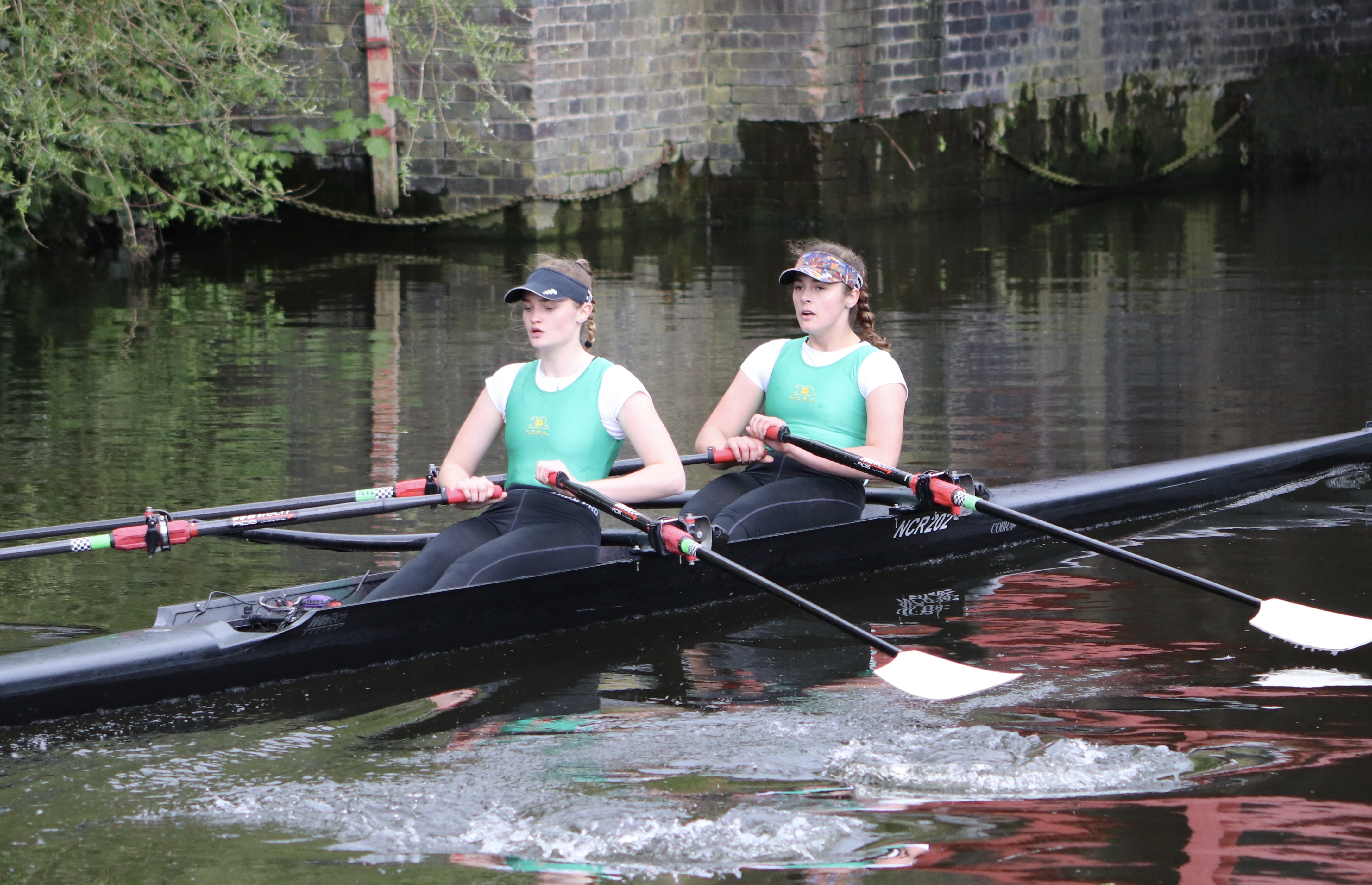 Women's Coxless Four – Esther Murray, Jess Austin, Chloe Wild, Megan Thomas (stroke)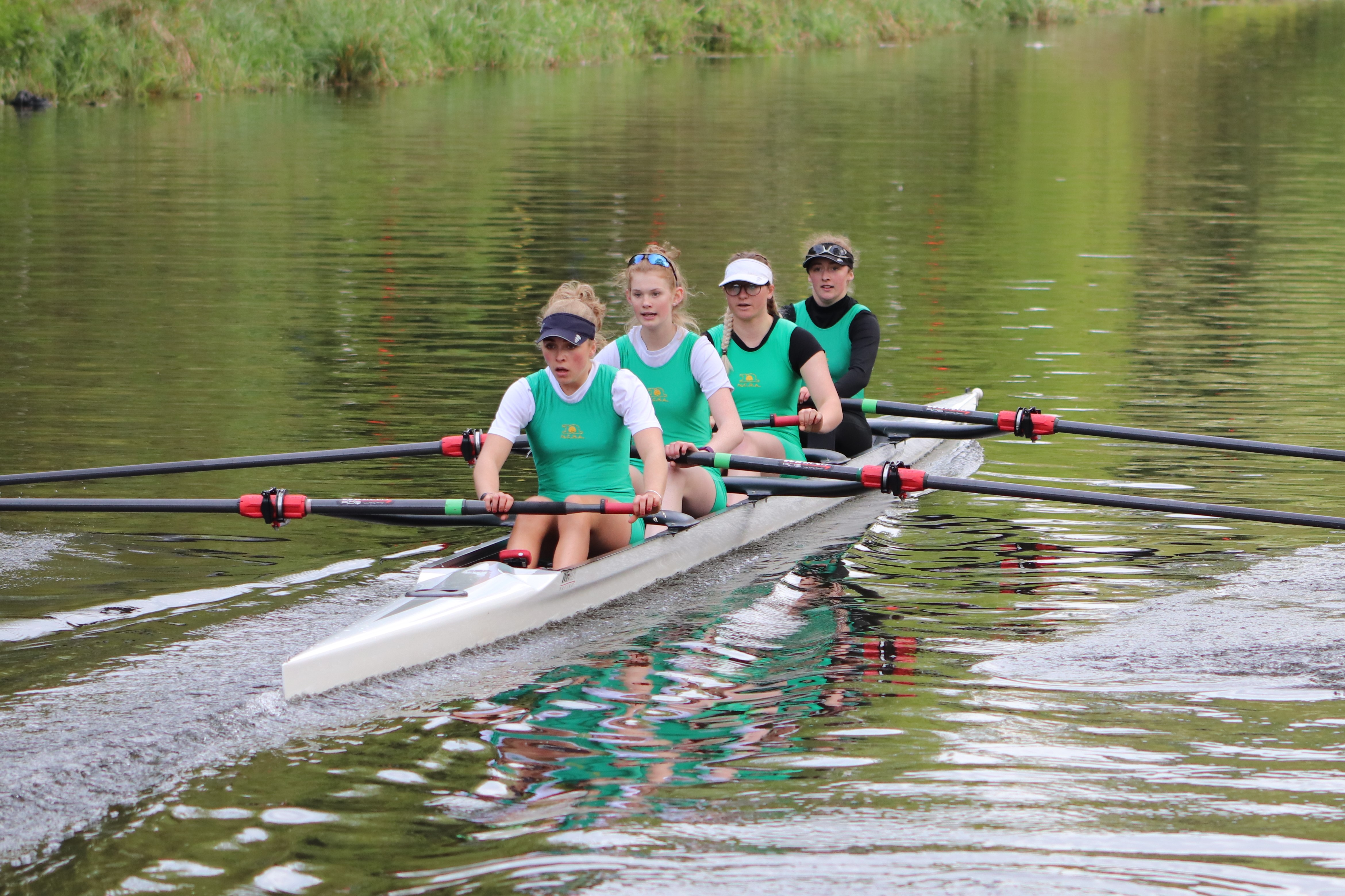 Men's J13 Single Scull – Byron Richards.
For Byron, this was a hat trick of wins after recent successes at Northwich and Abingdon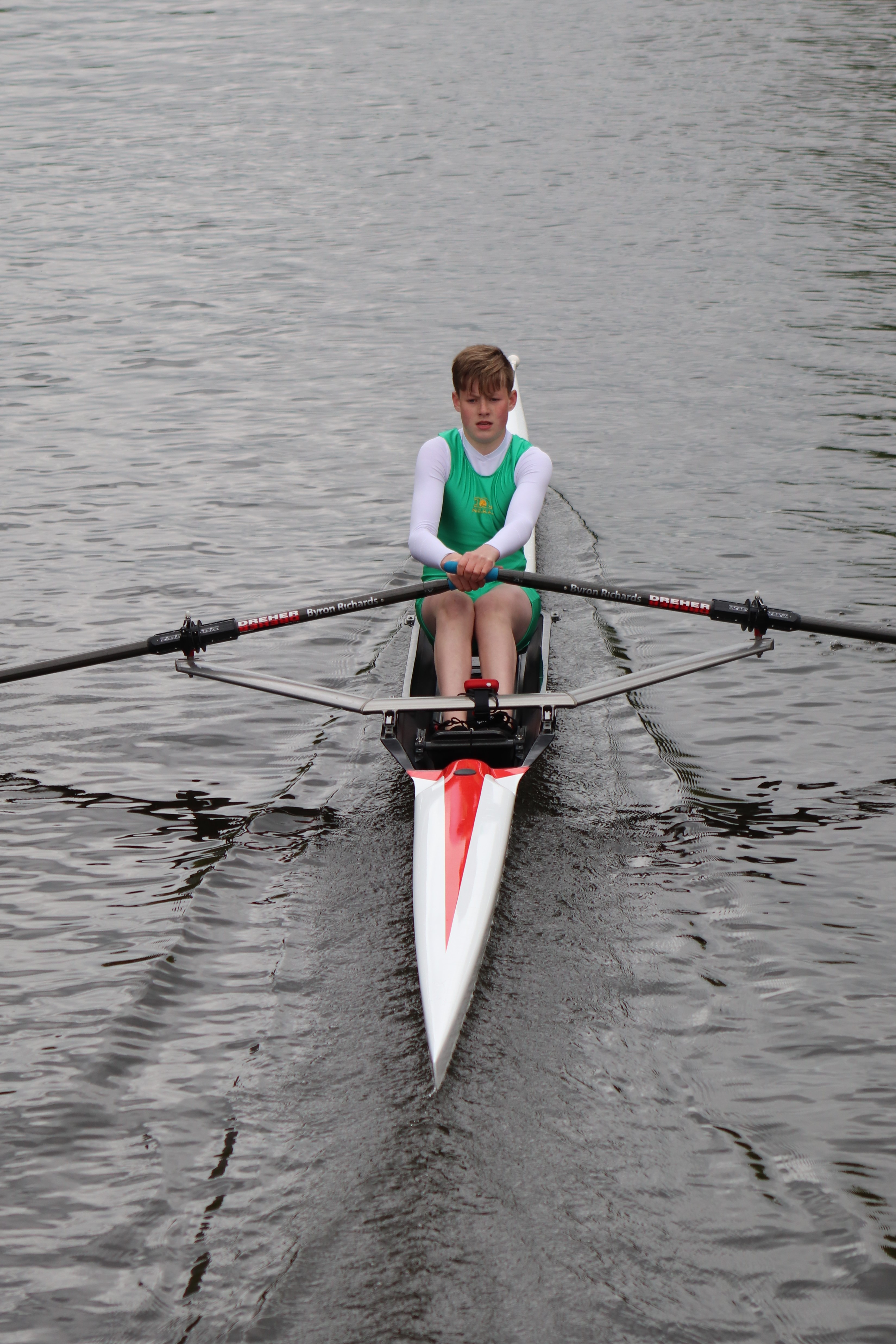 We also had two Finalists, in nail-biting close races bringing valuable racing experiences:
Women's J16 Single Scull – Hettie Holmes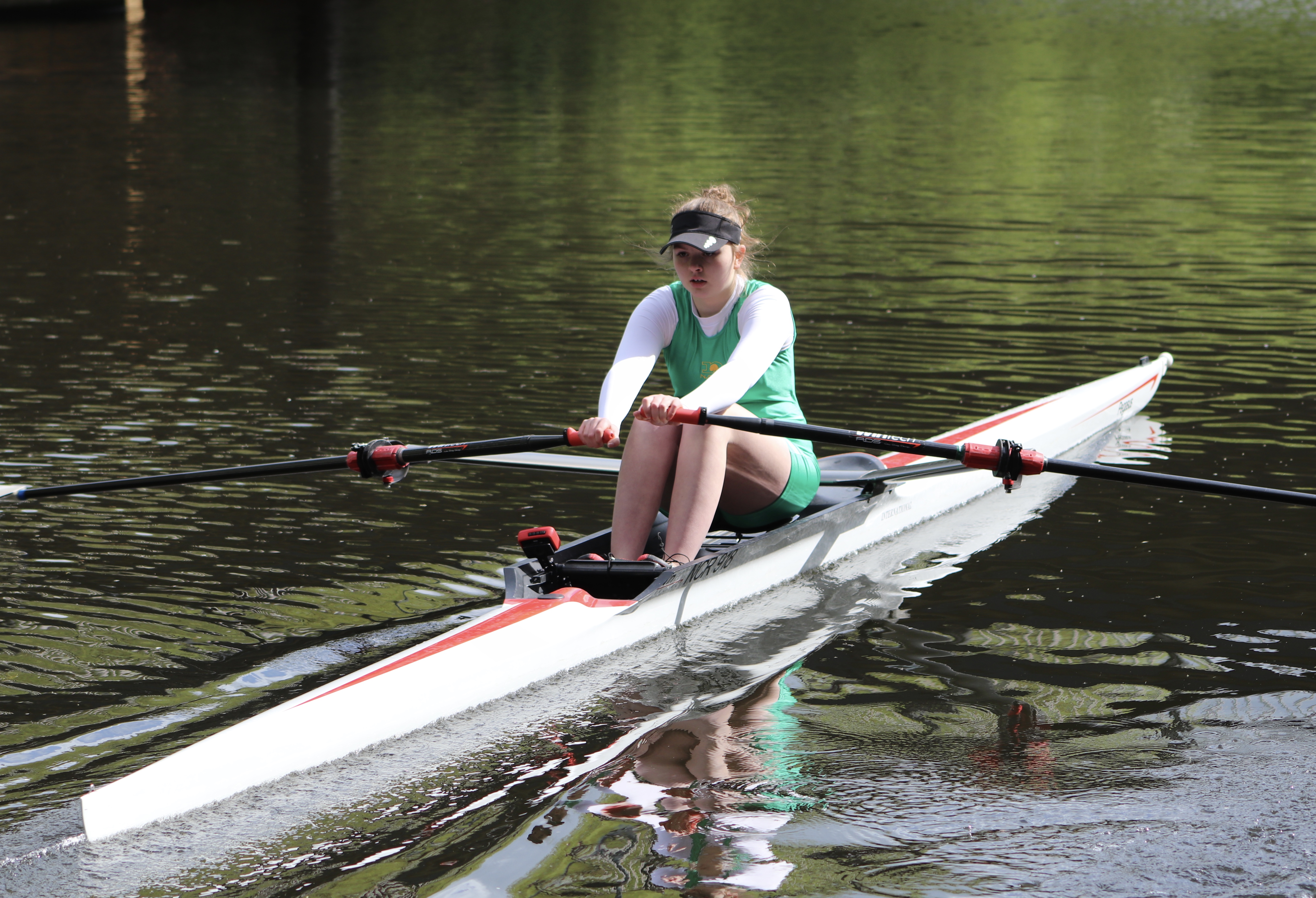 Men's Double Scull – Noah Whawell and Theo Hayes
For our new member Mai Findlay, this was her first race at Leicester in a new boat and although a win eluded her in the WJ16 single sculls, she gained valuable race experience, dealing well with the unique conditions presented at Leicester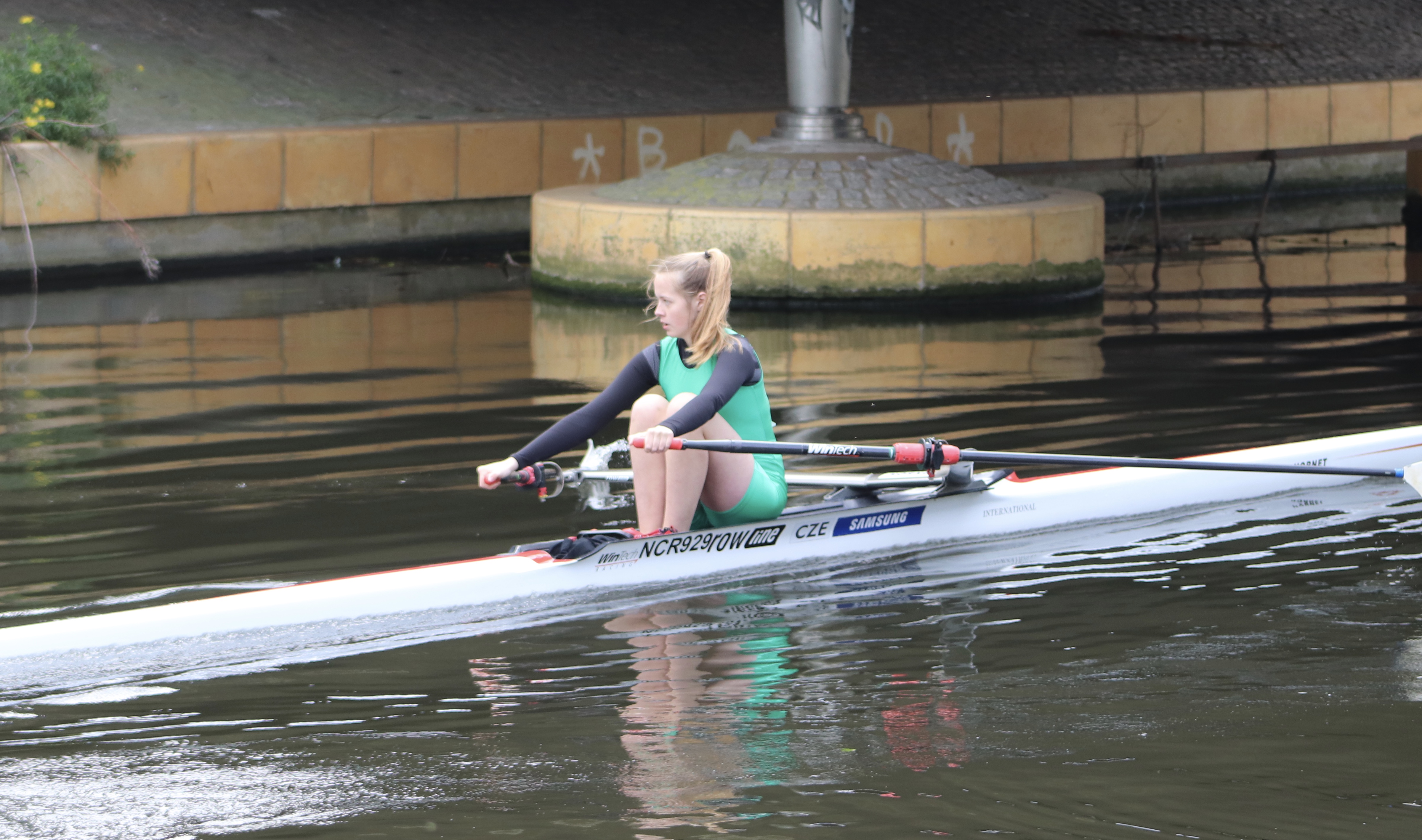 The day was spiced up by the discovery, on de-rigging, that Finn's and Hettie's wing riggers were exchanged unwittingly, their boat types being identical. The jury is still out on the respective benefits arising from this deviation!
Many thanks must go to the Regatta Organisers for giving us all a great day out with a fully packed programme and a grand atmosphere. No-one will forget the supercharged flapjacks which were a highlight of the food tables in the Leicester RC Clubroom.