This Report comes after what seems a long hard season with not a great deal of silverware to show for it, (although with a few notable exceptions -Noah's big win at Leicester and Megan's hard-won bronze at BUCS), until the last race of the year.
The National Schools Regatta, which has been a happy hunting ground in the last few years, was a major disappointment. We came away with nothing other than an awareness that the competition is hotting up with crews from schools that have not been in our events before. We have to learn from these disappointments, just watching the commitment from the Irish and Scottish crews is a warning that there will be no easy races, as we can be sure they will be back in force next season.
Meanwhile on home water, our crews demolished their opposition at Nottingham City with the Womens' Quad including Alice Bloomer from Leicester Uni BC, finishing the best part of 200M ahead on the line. Similarly Tom and Scott put in a decisive show in Mens' Doubles, followed the next day by Theo and Noah beating a bigger crew in what turned out to be a humdinger of a two horse match at the Club Regatta.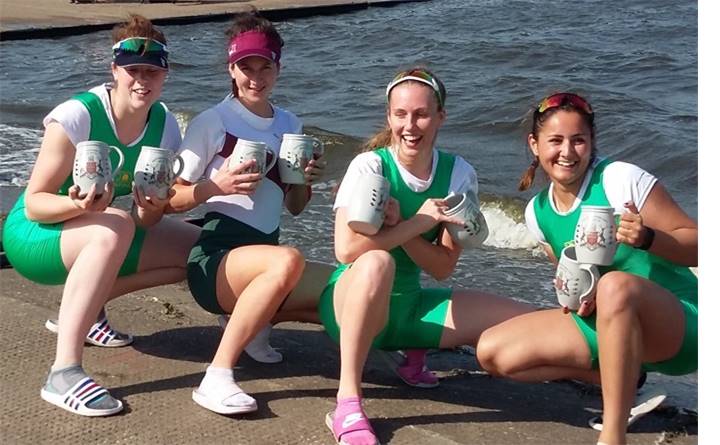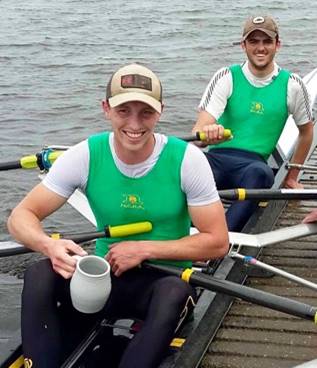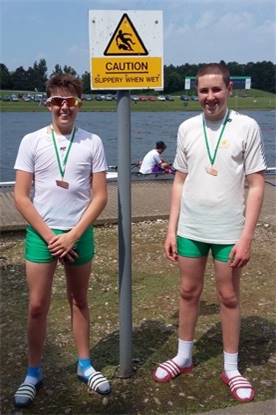 A great performance was later put in by Tom and Scott to qualify at Henley Royal Regatta, only to draw a very fast and 2 stone per man heavier crew in the first round. That is the risk of entering an open event. Failing to get a junior women's' or U23 quad through the Qualifiers, makes us even more aware of the rising standards.
The last race of the season, the Junior National Championships, on our own home water, was held in perfect conditions. Our 3 single scullers (Hetty, Jess A and Jasmin) all had hard races, giving great experience and part of the learning process. We got a proper barnstorming performance from Theo and Noah, acquitting themselves with their usual do or die race plan. We had 3 crews in the A finals, the WJ18 coxless four of Megan, Maddie, Lucy and Aimee, who won their time trial and semi final, but just got squeezed out of first place by Henley after leading for so much of the race. A well-earned medal then came from Tilly and Jess E in the coxless pair, shooting out at the start and giving the rest of the field a shock, they rowed home for a very creditable bronze medal. In the WJ18 double, Mia and Olivia were fastest in the time trial and were just pipped in the semi-final by a Thames/NRC crew, a hard race. The final was then a beautifully judged row working through to the lead with 500M to go, to land our first gold as NCRA at the Junior champs for 31 years, and so it is good to see the club get back to the gold standard after silver in 2016 and 2017.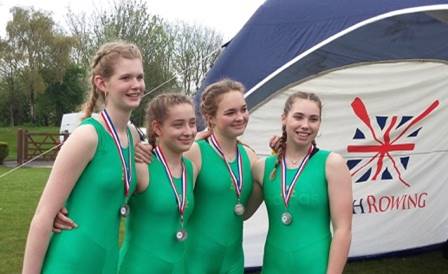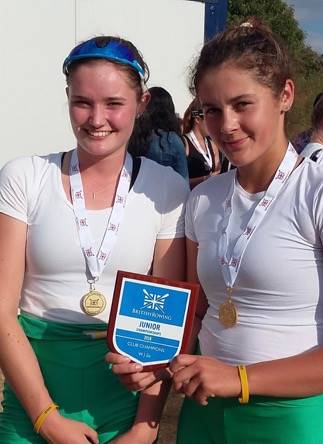 We say goodbye to Maddie, Lucy, Abi and Aimee as they go off to university. Abi and Lucy won't be far away, going to Nottingham University, so just in the next boathouse. Maddie and Aimee are off to Newcastle. But not to worry, Aimee's brother Byron is taking over her single, so another 4 years of taxiing for the Richards family. Eliza is off to Canada to be a ski instructor in her gap year. She seems to have been with us forever and has been a vital part of the club, the link between the crew and coaches. Hopefully, she will return to help next year.
On the coaching side, it has been a tough year with a lot falling on Martins' shoulders as Declan started his career in finance,and was not always available. We were fortunate to recruit the Holmes family, complete with 2 athletes and coach, Paul winning his first National Championship medal with the girl's pair, a great start. The addition of Michelle, Simon and Steve, all former members, gives us a better perspective as they see the crews with fresh eyes. We will have another coach (Colin) joining us for next season, as Martin is taking on responsibility for the U23 group, but don't worry he's not going anywhere, plenty of Quotes of the Week and a constant supply of biscuits will still be available. The coaching team have learnt a lot from this year and we are making the necessary changes to the programme to put us further along the winning path.