Byron wins at Henley
Byron took to the world renowned stretch of water at Henley-on-Thames on Saturday 3rd August for the Henley Town and Visitor Regatta.
This was his first time rowing on the course and there was mixture of excitement and nerves as he prepared to boat.
Competing up an age in the J14 Single, his first race was against one of three Hereford boys entered into this category.
Drawn on the Bucks side and at times rowing close to the bed bouys, he struggled with the wash from the numerous pleasure cruises making their way up and down this stretch of the Thames. But he learnt fast, correcting his steering away from the bouys toward a more central position and managed to secure his place in the final by 1 ¼ length.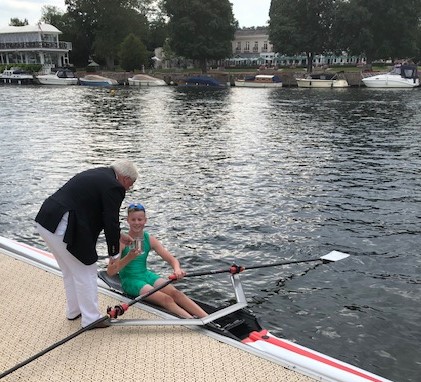 The final saw Byron drawn on the Berks station (tow path side) against Henley and Wallingford. Henley (drawn in the central lane) flew out the blocks and left Byron and Wallingford trailing after the first 100m. However, determined not to let Henley get away, Byron kept the pressure on and the rate up and powered through the Henley rower to take the lead by the 300m mark. From then on it was plain sailing and Byron pulled further away taking the win by 3 ¼ lengths.
A great experience for this young man and hopefully the first of many rows on this iconic course.