U23 European Championships, Kruszwica, Poland
In the final race of the 2020-2021 season, Liv made her international debut for Great Britain in the BLW 1x at the U23 European Championships in Kruszwica, Poland.
In a field mixed with experienced international athletes and those making their international debuts, the heats kicked off on Saturday with the first 2 places going straight into the A-final and the remainder fighting it out in the Repecharge.
Liv was drawn next to the most experienced athlete in the field, Lara Teffenthaler from Austria who had previously won Bronze at the 2021 World Cup 1 and Bronze at the 2019 U23 World Championships. Not phased by the task at hand, Liv went off the start hard and crossed the 500m marker only a quarter of a length behind Teffenthaler.
In the 2nd 500m, Liv moved out to a half length lead over Teffenthaler and by the 1,500m mark, led by 1 length, with both Liv and Teffenthaler having comfortably separated themselves from the rest of the field. A final push in the last 500m by Teffenthaler cut Liv's lead down to half a length but she finished the heat in first place, avoiding the Repecharge later that afternoon.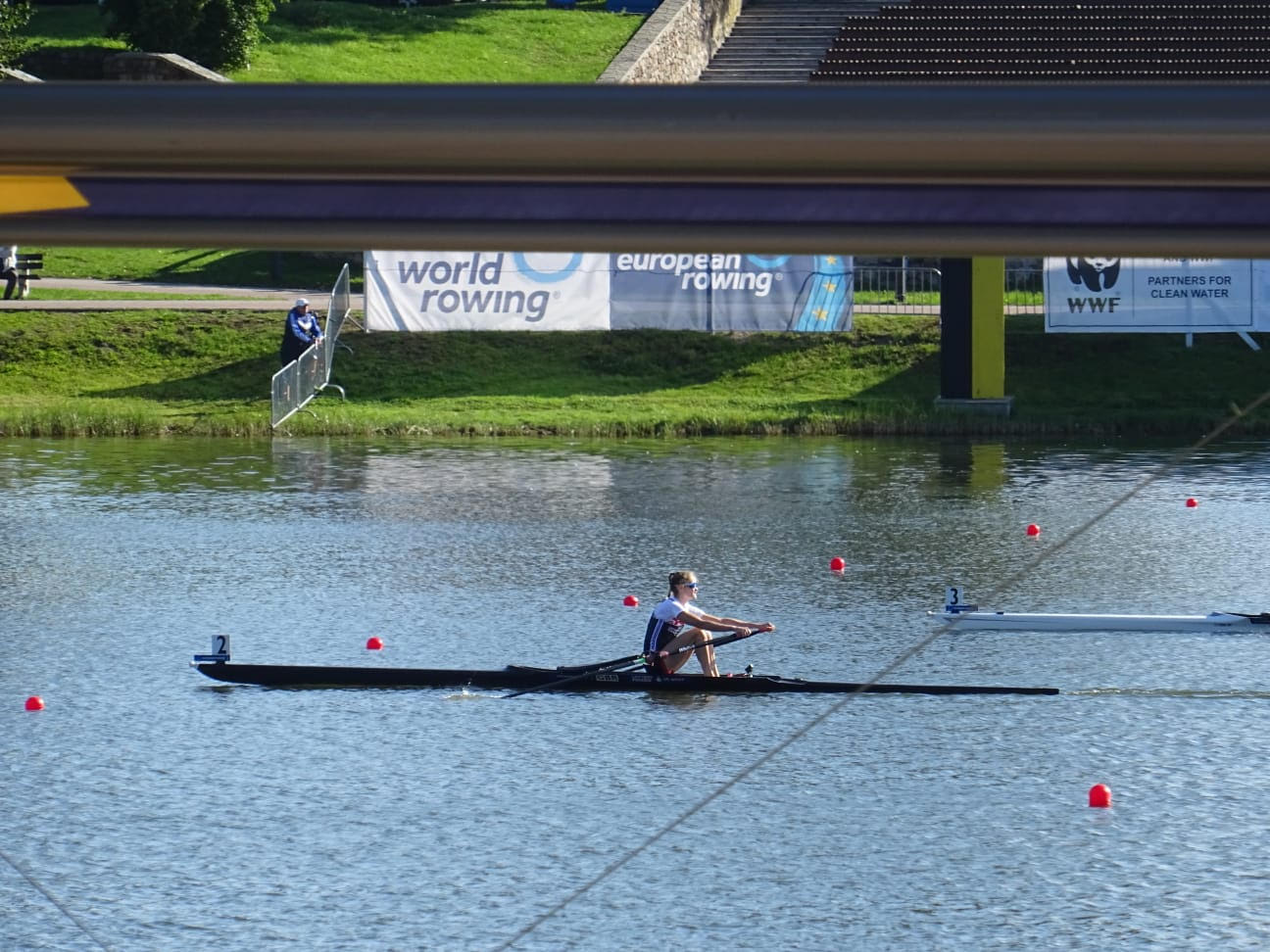 Sunday's A-Final brought similar conditions; a strong cross wind with a slight tail.
Prepared for a fast and aggressive Final, Liv shot out of the blocks alongside Tiefenthaler,  passing the first 500m in first place in a time of 1:46.48!
At the half-way mark, Liv had extended her lead to a length and extended this further to one and half length at the 1500m mark. In the final 500m a battle broke out between Tiefenthaler and Leventelli from Greece to avoid the Bronze medal and they started to put pressure on Liv's lead. By the final 250m it was impossible to be certain which way it would go. Ultimately, Tiefenthaler's experience came through as she pipped Liv to the line by half a second.
A very impressive Silver Medal for Liv in her first international race and many lessons learnt to take into next season. This has topped off what has been an incredible season for Liv, having also won Championship Lightweight Women's 1x at BUCS, Elite Lightweight Women's 1x at Henley Women's Regatta, and qualified for the Princess Royal Challenge Cup at Henley Royal Regatta as the only Lightweight in the field.
If you are interested in joining NCRA for the upcoming 2021-2022 season, please contact our membership secretary: membership@ncra.org.uk